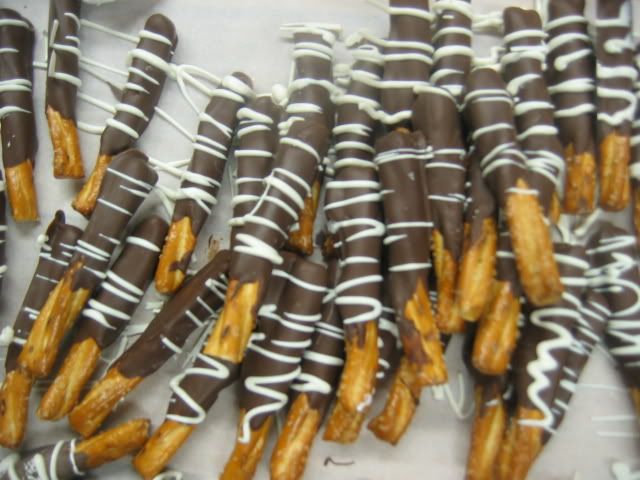 1 cup semisweet chocolate chips
(you can substitute white chips also)
10 eight inch pretzel rods (check Aldi's, Walmart or Target)
Assorted sprinkles
Waxed paper
Melt 3/4 c. chocolate chips in microwave on medium power until melted.
(or you can melt all the chocolate chips in a double boiler)
Then add the remaining 1/4 c. of chocolate chips and stir well.
Fold a piece of wax paper in half, open it up, and pour the sprinkles down the crease.
Dip and spoon chocolate on half of each pretzel rod, and then gently roll/press the chocolate
covered part in the sprinkles. Place on another piece of waxed paper to set, and chill for
about 15 minutes in the refrigerator.
After the chocolate and sprinkles have set, place in large cellophane bags (Hobby Lobby has them in the cake decorating section~make sure you buy the extra long bags so the pretzels will fit) and tie with ribbon and tag made from scrapbook paper. (I get my red and white striped ribbon from Walmart)